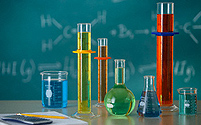 In this spirit of "PROGRESS THROUGH HARDWORK, SIMULATION OF INDIVIDUAL POTENTIAL AND DEDICATION TO THE WORK", We have been relentlessly striving to attain excellence in quality of our products we offer and services we provide. Now, we take pride to remain on top amongst small scale manufacturers.
Embarked on a journey towards excellence, we are manufacturer & exporter of FENURON, Urea, Phthalogen Blue Dyes ( Ingrain Blue Dyes ), Reactive Dyes, Acid Dyes, Direct Dyes, Vat Dyes, Auxiliaries, Organic Pigment Powders, Fast Bases, Blood Stains and pH Indicators since 27 years . With a modest beginning in 1989, today we offer a wide range of dyestuffs, auxiliaries & organic pigment powders to match International specifications.
Keeping pace with our untiring commitment to customer satisfaction through quality assurance, we also take utmost care to ensure delivery schedule and packing obligations. Our comprehensive range of Phthalogen dyes (Ingrain Dyes) and dyestuffs is most ideally suited for the use in Batic, Khanga, African print, Kiteng, Fibers and varied other fabrics.
Catering to over 18 countries, today our products have found worldwide a acceptance and popularity. Nucleus of some of the best professionals, committed work force and well equipped infrastructural set-up are the major contributing factors towards our blazing success.
We offer wide range of Dyestuffs suitable for Adhesives, Reinforcements/Composites, Prepregs, Textile, Paint, Paper, Ink & Leather Industries. 1989, has been a major landmark for us, we ventured into Dyestuff Manufacturing and diversified our activities from time to time to become self sufficient.
Since 1995, we have been exporting our products to all parts of the world both to developed countries like USA, UK, Germany, Switzerland, Spain etc, and to developing countries like China, Sri Lanka, Malaysia, Indonesia, Bangladesh, Pakistan, Singapore, South Africa, East Africa etc.