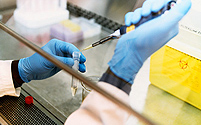 Our laboratory is equipped with the ultra-modern testing instruments like Spectrophotometer, Photo Speedo Meter, Automatic Dyeing Bath, Automatic Turbidity Meter, Digital Weighing Balance etc. and many more. We will strive to meet customer's expectations consistently. We will further leverage its position in existing and new markets by winning customer's trust through reliable product support.
We will achieve leadership by continuously developing capabilities to offer innovative and reliable products to our customers at a cost which is value for money.
Efforts in the direction of obtaining ISO 9001 have already been initiated.
Each and every batch is tested at all stages to ensure the genuine product reaches the customer.
No compromise in terms of Quality.
We retain standard approved samples from our overseas buyer.