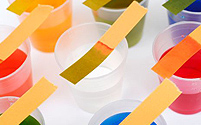 It is our objective to continue our efforts incessantly to improve the quality of our products and services through better allocation / utilization of resources and HRD, to achieve still higher and higher degree of customer satisfaction and their loyalty for the resultant improved financial performance.
While, currently having focused attention on FENURON/N,N-Dimethyl Phenyl Urea (CAS No.: 101-42-8), Urea/N,N''-(methyl-1,3-phenylene)bis[N',N'-dimethylurea] -(CAS No.: 26604-41-1), Urea/1-(3,3-Dimethylureido)-3-[(3,3-dimethylureido)methyl]- 3,5,5-trimethylcyclohexane (CAS No.:39992-90-0), Urea/4,4'-Methylenebis(1,1-dimethyl-3-phenylurea) (CAS No.: 10097-09-3), Phthalogen dyes ( Ingrain Dyes ), Reactive Dyes, Acid Dyes, Direct Dyes, Vat Dyes, Auxiliaries & Organic pigment powders. we are willing to undertake production of other branches of Synthetic Organic Dyes in future at a suitable opportunity.
Reaching New Heights : To discern, analyze and fulfill customer satisfaction is the permanent function of our marketing group. A wide product line ranging from Ingrain and Reactive Dyes to pigments is a true proxy indicator of our success story in the domestic as well as international market. As an outcome of Marketing Strategy, the products are suitably positioned to serve varied end use segments namely textile, handlooms, leather, plastics, ink and paper industries. To provide a precise response to diversified needs, our strategy is one of the intensive distribution. Our products are currently promoted by 32 wholesalers and agents throughout the domestic market.
Embracing Newer Horizons : Our international growth confirms the wisdom of the company's emphasis on the quality. Encouraged by the splendid response from the domestic market, We entered into the international markets in the year 1995. Catering to over 25 countries, our products have found world wide acceptance and popularity.